Awards
Liu Fang received the French Academy Charles-Cros Award
2006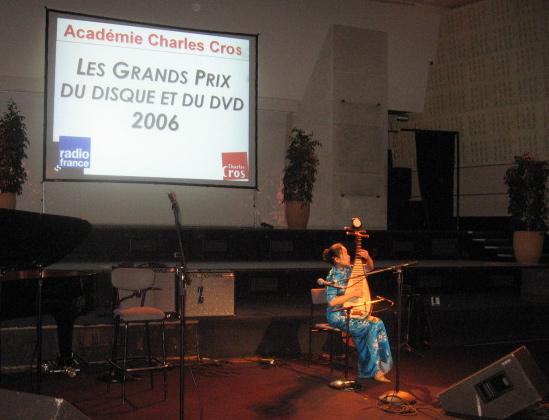 Liu Fang has been honoured with the prestigious L'Académie Charles Cros Award, the French equivalent of the US Recording Academy (also known as Grammy Awards) for her new record entitled "Le son de soie", an elegantly packaged release on French label Accords Croisés. This record, which contains four pipa solos, three guzheng solos, two duets with Ballaké Sissoko's kora, two with Henri Tournier on Indian bansuri flute, and one with Algerian oud player Alla, has received ravishing reviews, being considered as "master musicians at work" and "a delicately embroidered album that reveals a remarkable cogency between instruments worlds apart (see press reviews). The award was issued by the Academie at the festival Les Escales de Saint Nazaire on On August 4, 2006.
The Canada Council for the Arts awarded Liu Fang for outstanding achievements

Confirmation letter from the Canada Council for the Arts
June 11, 2001

Dear Ms. Liu Fang,

I am writing to confirm that you have been selected as one of the three winners of the Fund for Future Generation Millennium Prize. On behalf of the council, I am delighted to extend my congratulations and best wishes

You are joined by two other outstanding young artists in this achievement: screenwriter, director, producer, author Julie Hivon and author, playwrite Olivier Choiniere. I am please to advice you that this prize is accompanied by a tax-free cash award of $5,000 to each of you ...

In the spirit of the Fund for Futre Generation Millennium Prize, the jury recognized your outstanding achievements at this early stage of your career and saw great potential for future excellence. In the Jury's words:
"Liu Fang's mastery of the pipa and the guzheng has established her international reputation as a highly talented young interpreter of traditional Chinese music. She aspires to combine her knowledge and practice of Eastern traditions with western classical music, contemporary music and improvisation, thereby creating new musical forms, uniting different cultures and discovering new audiences."
I agree wholeheartedly with their judgement and wish you many more fullfilling and productive years as your career develops and prospers.

Please find enclosed a copy of the Communiqué publicly announcing the results. This summer you will receive a commemorative framed certificate in recognition of this achievement.

Please accepte our congratulations and best wishes for a very long and successful career

Jean-Louis Roux, C. C. (Signature)
Chairman

---

[NOTE] Liu Fang has published this letter to express her thanks to the Canada Council for the Arts and the jury for having given her this great honour, and to share her happiness with the friends and music lovers who have given her great supports to her international career and appreciations to her music.

---



[Back]